Tube Packaging is used in a variety of sectors. They are adaptable and can be used to package a wide range of products. Paper tube packaging has become more common and accepted around the world as e-commerce has grown exponentially.
Subscription boxes for food, coffee, chocolate, cosmetics, and other products are also made using them. Paper tube package design trends are shifting. This blog post shows some of the most popular paper tube package design trends.
Latest Trends in the Tube Packaging 
Bold and Bright Colors
Using bright colours is attractive. To differentiate your goods, consider vibrant colours in postal tubes. The usage of bright colours increases the package's visibility from distance. On busy supermarket shelves, such packaging is highly visible. It's also easier to recognize when the box is brightly coloured.
To make your package more unique, add unique images and design elements. Brightly coloured tube box packaging is ideal for selling products during special seasons such as Thanksgiving, Christmas, or New Year. Vivid and vibrant colours and cardboard tube packaging are widely being used by businesses to boost brand awareness and recognize among customers.
Premium Product Packaging
Premium items are packaged in paper tube packaging. This type of packaging is usually used for specialized products such as premium tea, chocolate, toiletries, and so forth. To generate a minimalist and handmade sense, brands are employing simplistic typography and colours on their packaging.
Consider utilizing bold colours on a white or brown base for a more lively and eye-catching appeal. To get a premium feel and look, the emerging trend is to use minimalist visual elements. It contributes to the formation of product specialization and promoting it in the high-end market.
Food Packaging Design
Food packaging demands greater precaution and care. The food product must be placed in non-contaminating or spoil-proof materials. Some of the plastics used to package food products can be dangerous if they come into contact with them. Food products may become contaminated and dangerous to eat as a result of this.
Inside the paper, tube packing is an unreactive paper liner. They have no reaction to packaged foods. This ensures packaged food safety while also keeping them fresh and nutritious for human use. Because of this feature, paper tube packaging is widely used to package food goods around the world.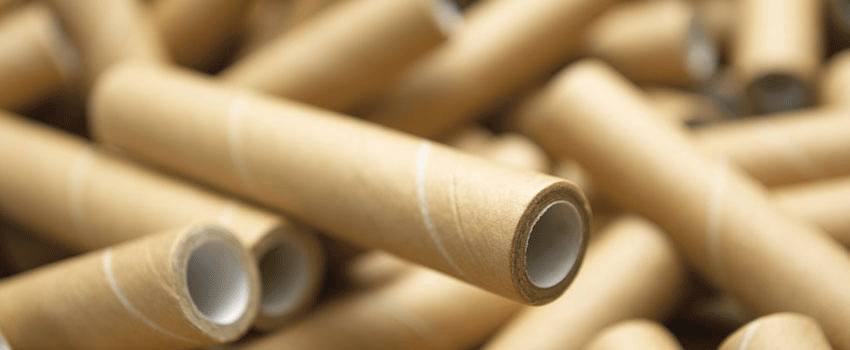 Apparel
In the fashion industry, paper tube packaging is becoming more popular. T-shirts, underwear, socks, and other apparel are increasingly being packaged in paper tubes. These garments take up much less room when packaged into cardboard tubes. Also, it gives excellent weather protection for the garments or anything inside the tube.
The packaging is both strong. efficient and lightweight. This allows for more apparel to be carried with much less space and the same amount of fuel, lowering the product's environmental impact. These cardboard cylinders provide appealing clothes packaging that can be gracefully stacked on shelves to draw more shoppers.
Minimal Design Elements
A trend observed in cardboard tube packaging is the use of simplistic design details. In the packaging industry, companies have ended up experiencing that simple is best. Cardboard tube packaging is commonly utilized when there are few design components.
Non-essentials are excluded from the packing, resulting in a cleaner, clutter-free appearance. The fonts and colours take centre stage in these minimalist design ideas. This aids in making a stronger and more positive impression on potential clients. The clean design of the paper tube packaging elevates the packing and provides the item a premium vibe.
Unique Items
Tube packaging is becoming trendier with each day. Even more, companies are understanding the advantages of embracing it for packaging materials. As paper tube packaging is getting more common, it is also being used to package some unusual and unique things.
Umbrellas, for example, are placed in paper tubes to optimize their beauty and desirability. It also supports the umbrella's positioning as a more luxury and refined item among purchasers. Since paper tube packaging is economical, it has little effect on the final cost of a good. As a result, you can pack and arrange your goods uniquely with paper tube packaging for a low cost.
Abstract Design Patterns
In tube packaging, abstract design patterns and features are a common trend. The introduction of abstract designs and patterns boosts the beauty and elegance of the box. When used against a light backdrop, such visual elements have much more impact.
An emerging trend is to use creative design patterns over basic backgrounds such as pastels, nudes, sepia, pinks, and so on. These geometric design patterns give the box a softer, more fanciful appeal. On the packaging, companies are also adopting simple pictures and slogans.
By eliminating the three-dimensional aspects, it makes the pictures and texts cleaner, clearer, and more readable. This package design concept is based on paper tubes.

What Makes Tube Packaging a Perfect Packaging Solution?
The following are some of the most important advantages of paper tube packaging:
It's lightweight and handy to handle, transport and store. It decreases the product's ecological footprint by shipping more products with almost the same amount of fuel.

It's easy to arrange products that come in cardboard tube packaging. On supermarket shelves, they can be properly arranged.

It is completely and 100 recyclables. As a result, it is

ecologically friendly

and beneficial to environmental protection.

The product is well protected by the paper tube packaging. It protects the product from damage while it is being transported.

It's among the most adaptable packing options. Tube or

cardboard roll

packaging can be used to pack a variety of things, including clothes, pharmaceuticals, and foodstuffs.

With paper tube packaging, you have more options when it comes to colours, fonts,

design components

, and so on. It is perfect for businesses to tailor their packaging using their desired design features.
Where Can I Get Top-Quality Tube Packaging for My Products?
Excellent packaging expresses your brand's values to the world, assists prospective buyers to know if your goods are appropriate for them, and helps potential customers remember your brand. Color, style, and other design components in packaging express all this.
For the past many years, Safe Packaging has supplied tubes and cardboard tubes packaging for products in several different industries including food, cosmetics, beverage, pharmaceutical, personal branding, to name a few. We offer a wide range of cardboard boxes, tubes and other packaging supplies made up of 100 recycled materials. 
Get in touch with us to know more.