"Cardboard rolls – Packaging can be theatre, it can create a story"- Steve Jobs.
The ultimate goal of every business is to make a profit. It can happen only if your business keeps increasing. A business will improve only if people start trusting that you and the quality of your product. As we are living in a world of the internet and people always prefer things to be delivered to their doorstep, sending the products safely to the hands of their customers is a big ordeal for all the entrepreneurs. Because we may be producing and selling the best product in town, but when packed and shipped it will go through so many hardships which may lead to bruising, abrasion and damage. So the best way to save these items is by protecting them with packaging materials. While the main purpose of packaging material is to protect an item, it serves various other purposes like containment of the item in it. It can also be used as an effective tool for branding. 
One of the best packaging materials is corrugated cardboard rolls. They are widely used and serve multiple purposes. Let's get to know about them in detail. 
What Are Cardboard rolls?
The cardboard rolls are protective packaging commodities. These are flexible solution to safeguard your valuable products during transit. The corrugated paper rolls are 100 % recycled and are the easiest way to protect and pack items of different sizes and forms. It has high shock-absorbing qualities and is perfect for small batch sizes. Additionally, they come in huge rolls and so the cardboard rolls can be manually cut at ease to the required size. It can then be wrapped around products of varying sizes depending upon your need. They are helpful in adding a cushioning effect to the product. Even cylindrical structures of cardboard that are made from ribbons of cardboard paper are also known as cardboard rolls. They can be used as tubes or cores. Cardboard tubes are essentially made to hold things inside it, they protect the item from external factors like heat, moisture and denting. A juice or chip can is an example of a cardboard tube. On the other hand, a cardboard core is something that is used to add structure to items. So the product to be sent is wound over it, to keep it intact and protect it from losing the corners and the product near the end of the roll. A toilet roll cardboard is the best example of a cardboard core. 

What Can A Cardboard Roll Do?
Primarily, a cardboard roll offers a cushioning effect to the items when wrapped around it. Therefore even during tough phases of transit, your products will stay safe and will not get damaged.
Each item is unique and has unique shapes. The different shapes of each item may require different lengths of the cardboard sheet. As they come in an 'endless'

corrugated roll

format continuously up to 200m. You can cut and use them according to your needs.

Cardboard rolls come with a soft inner liner which adds to their broad elasticity. 

Branding is a wow factor that a corrugated cardboard roll offers. In it, you can have high-quality print. And so you can visually shout out your brand to others, which can, in turn, attract a lot more potential customers. 

The cardboard rolls are available in a wide range of widths, ranging from 400mm to 2400mm. And so can be used on products of various lengths and widths.
What Are The Advantages Of Cardboard Rolls?
Environmental impact
As the rolls are made of cardboard it causes the least environmental impact. Compared to other materials, manufacturing cardboard produces 60% less carbon dioxide and oil emissions. With respect to its cushioning and shock-absorbing qualities, it can be used s a replacement for plastic bubble wraps. Which is n another way good for the environment as you are reducing the use of plastic.
100% recyclable and biodegradable
Cardboard is cellulose and so the decomposition time of it is less. As a result, corrugated cardboard degrades completely within a period of one year. Furthermore, when exposed to favourable weather conditions like a humid environment, the degradation process is even more accelerated reducing the time period. 
Minimises waste
You can easily reduce, reuse and recycle cardboard rolls. And so you can avoid unnecessary consumption and waste. Thereby as a responsible citizen, you will be reducing your carbon footprint. A special feature of cardboard is that even when we recycle it, it does not lose its resistance or durability. Even after recycling, the cardboard roll will not lose its properties or quality. By recycling these you can save a lot of energy which can be used in manufacturing other resources. To produce them you would need 90% less water and 50% less electricity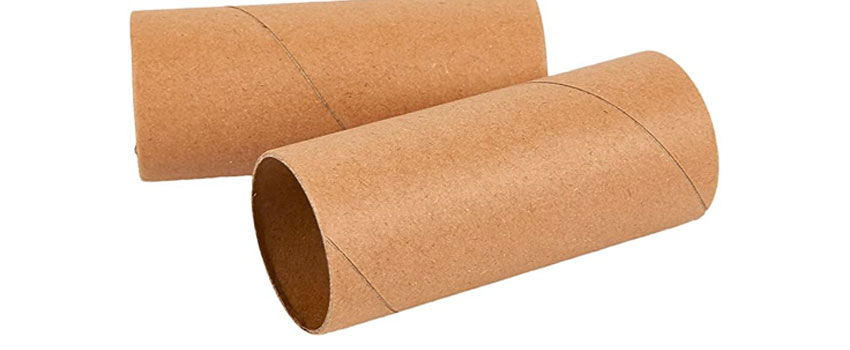 Shock absorption
When fragile items or other products are wrapped with cardboard rolls, it would reduce the damage caused during loading and unloading, storage in a warehouse and on rough roads. It is because of the soft inner liner that gives it shock absorption qualities.
Light in weight
As the raw material used in making rolls of cardboard is kraft paper, they are not too heavy and are light in weight. So you may stay worry-free about paying extra for your freight charges. As a result, you can make your customer happy by providing free shipping services.
DIY Projects
Apart from serving your needs in packaging, they can also be used in several DIY projects to make decorative and other functional items. They can also become a fun activity for your kids.
Where To Get The Best Cardboard Rolls?
If you are someone like me who opens Google and enters 'Corrugated Cardboard Roll Near Me',- rest assured. You've found that one place that can fulfil all your cardboard roles. We at Safe Packaging are working hard each day to provide the best quality goods for you. Here you can get cardboard rolls in your desired sizes and quantities. You can also customise them as per your needs.