In the world where technology is continuously driving the manufacturing process, there is a wide range of ways companies offer secure packaging and wrapping to manufacturers and shippers. While you can still sue cardboard boxes or bubble wrap in your packaging process, flexible film cores are one of the most recommended packaging materials. Film scores have been used for many years, so it is not a new concept. But what exactly is the flexible film core? Often referred to as converting core, this cylindrical, sturdy tube is tough enough to endure the force of whatever material is being wrapped around it such as a tape. If the film core is not strong enough it will not be able to keep the tape in place.
Film cores are usually produced in long lengths before they are cut down into smaller pieces for end users once they have been coiled with a product.
Flexible films come in a wide range of diversity, from plastic to metal, and at Safe Packaging, we supply the right core for all sorts of film and flexible packaging.
Our cores provide customized solutions to meet all your packaging needs.
We offer a variety of plastic and metal films as well as technical foils. You can get paper cores, metalcore, and plastic cores in custom-made qualities as well as in precise and uniform constant.
Each of our cores is manufactured with the end-user application in mind while retaining the right level of flat crush value. Safe Packaging offers flexible film cores as well as converting cores in a variety of diameters.
Standard
If you are looking for film cores in specific dimensions and strength, take a look at a wide collection of standard paper cores. We provide the paper cores for packaging and stretch, consumer, construction as well as agricultural in all sorts of strength and dimensions.
The benefit of our standard paper cores is that they come in a wide range of selection including dimensions and strengths. They are also designed in customized qualities.
Strength
A flexible film core must be strong enough to withstand the pressure being applied to it by the wrapping tape. At Safe Packaging, we don't just manufacture the cores. We rely on thorough winding pressure research, and then we optimize our cores according to the requirements of the users. For this reason, our film cores can endure the highest strains when wound with foils and plastic tapes.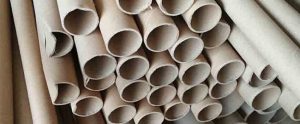 A strong flexible film core provides versatility for every application and support when looking for errors during your winding process. The cores also offer consistency even when subjected to maximum strains.
Cellulose film
We also offer paper cores with cellulose film, PE, or silicone surface so that you can have a residue-free unwinding. It also offers a total tape release.
If you are looking for a water-repellent paper core for your agricultural stretch films, we got you covered. The cores come in specific types as well as dimensions. They are eco-friendly.
Different options for core films
When shopping for core films and foils on our website, you can choose the following option that suits your needs:
Smooth surface exterior
Film cores with a fortified interior
Film and foils with an exterior that withstands indirect contact with food.
Fully fortified cores suited for high winding tensions
Cores fixed with tape on their exterior to match your material.
The composition of our cores and the finish of the exterior surface are determined by their end-use application. For sensitive and delicate films, you can go for cores with smooth surfaces, while films aimed for food industry application, you can choose the cores with barrier material on the surface.
The essential physical properties including radial crush and crush resistance are tested by our team in our advanced labs.
Perfect for your requirement
The main aim of our intensive winding pressure research is so that we can offer you a perfect core that is suited for every application.
All film rolls are:
Right shape, which is round and correct width
The right size that is right length or diameter
Right consistency; not too smooth and not too hard
Look good without any visual defects or blemishes
Advantages of our core films and foils
Cores that suits all your requirements
You get application-specific custom designs for all your needs
Precise fixed lengths, dimensions and dust and lint-free.
Customizes surfaces for even the thinnest films and foils
Request a quote
Safe Packaging is a trusted source for paper cores for all kinds of applications. If you are looking for a solution, you have come to the right place. Just tell us your needs using our contact form. Don't worry about your privacy, since after processing your request; your data will be deleted from the form.