What are edge protectors?
Edge protectors are great for providing extra security to any boxes or items that have a sharp edge. These are used in a variety of industries, but particularly for fulfilment industries and warehousing, to stabilise and protect edges of pallets, or loads in transit. It also provides protection for worktops and furniture edges so that not only is this protected, but anyone walking by is protected from being hurt by the edges.
Edge protectors can also be used to provide extra support to fragile items within a parcel so that the item inside doesn't more around or get damaged during the transit process. These aren't just great for boxes but can be used as a table edge protector or as a wall edge protector and even as mini door edge protectors.
We offer a wide range of sizes for different objects, whether it is something extremely small or very large, you can find the right edge protector for you. These heavy-duty cardboard edge protectors will ensure that your item is fully protected and doesn't get damaged.
These L shaped cardboard edge protectors are easy to use and assemble. All you have to do is measure out the right amount and stick it on to the edge of the item. For customers using L-profiles for packaging furniture and more delicate items, the cardboard is non-scratch so this won't damage any polished surfaces or delicate items. It is also 100% recyclable and chemically neutral, making packaging high value and fragile products more environmentally-friendly.
Where to find cardboard edge protectors?
At packaging base, we ensure that all our customers can find the right packaging for them. That includes a range of different sizes cardboard edge protectors perfect for you. Cardboard edge protectors are frequently used to stabilise, reinforce and protect pallet loads during storage and transit. Board edge and corner protectors brace and further protect palletised goods from strapping and or shrink wrap.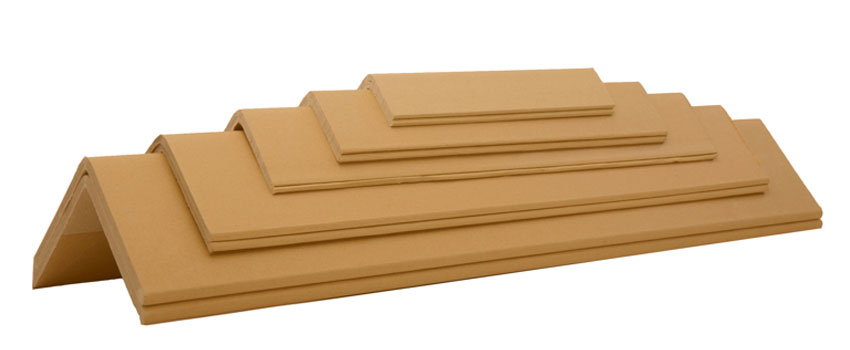 Manufactured from compressed recycled cardboard, our board edge protectors are an economical way to reinforce cardboard boxes and cartons to help protect fragile consignments. Cardboard edges can be used time and time again, and recycled when they are past their best.
Cardboard edge guards can be used to aid protection of loads under stretch film or strapping on the pallet, vertically or horizontally, or as complete all round protection. They can also be shortened and used as internal reinforcement of cartons. Heavy duty cardboard edge protectors are 100% recyclable and can be recycled along with cartons and cases so you can ensure that you are doing your part for the environment.
We offer a wide selection of different sizes, ranging from 35mm x 35mm x 3mm x 1000mm to 60mm x 60mm x 3mm x 1000mm so you are sure to find the perfect one for you. If you can't find the right size, don't worry! Get the one that is closest to the one you need and cut it to the right size. The cardboard material makes it easily adjustable to the size that you need.
If you have any further questions regarding packaging, feel free to contact our team of experts who will be more than happy to assist you in finding the right packaging for you and you company. Our cardboard edge protector's manufacturers UK based ensure that you receive your item as soon as possible.