Did you know that one of the safest and most efficient ways to move pallets of merchandise has nothing to do with the mode of transport? It's how the goods are attached to the pallet or skid that matters. To ensure the overall safety and reliability of your industrial uses, use high-quality stretch film or pallet wrap to secure and protect goods. Stretch film assures that your goods stay exactly where you put them, regardless of how you handle them.
Pallet wrap, on the other hand, comes in a variety of sizes, styles, and thicknesses, making it difficult to choose the right one for your company. That's why we've put together this handy guide – keep reading to find out more!
Stretch films assist maintain the load securely in position and protect it from damage during transportation. Stretch film rolls are one of the most popular types of packing material. They're a simple but effective approach to securely pack things.
In this post, we'll look at what stretch film wraps are, how they work, and the advantages of using them.
What Is a Stretch Film and How Does It Work?
Stretch films, often known as wraps, are flexible plastic films that are wrapped around an item to keep it stable. They're typically seen on shipping containers, where they're utilized to keep products and containers secure during transport. They're very useful and beneficial for eCommerce companies who are involved in shipping a lot of merchandise. They assist in the appropriate packing of products and the reduction of product loss during transportation, loading, and unloading.
Many people confuse stretch films with bubble wrap in the kitchen. They are, however, heavy-duty wrappers that can be used to bundle things and secure them in order. Stretch films are available in a variety of qualities, thicknesses, and colours to suit your needs.
Different Types of Stretch Film
Colour Stretch
Hand Stretch Wrap
Machine Stretch— Cast Stretch, Blown Stretch, Pre-Stretch, Hay Baling Stretch
No Cling Stretch
Reinforced Stretch
UVI Stretch
VCI Stretch
Vented Stretch
Benefits of Stretch Film Roll
Here are some of the common benefits of a stretch film roll: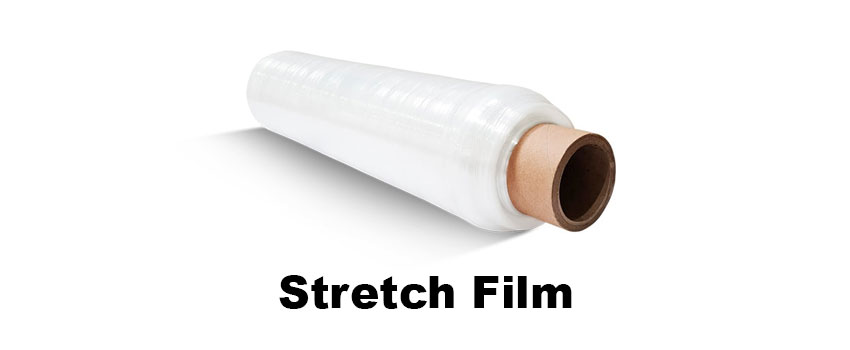 Product Protection
Stretch film rolls have a very basic function and value. The products will be protected from environmental variables like dust, dirt, and moisture by being wrapped in stretch film. They aid in keeping the load dry and clean while also making it noticeable. UVI stretch film rolls can even protect the cargo from UV rays if used correctly.
Lowered Product Damage
Stretch films help you to cover your goods properly and make them more durable during transportation, reducing the likelihood of things shifting about. Stretch rolls also make it easier to move the cargo around with the assistance of a forklift.
Better Handling Proficiencies
When stretch film rolls are combined with angle boards, the weight can be stacked vertically on pallets. This makes the most of the available warehouse space while keeping the goods. Furthermore, you can smoothly wrap and move around the load, allowing you to work more efficiently.
Stretch film rolls can also be used to store odd-shaped loads that otherwise would be difficult to load on a flat surface.
Reduced Wastage and Recyclable Materials
The majority of stretch films are environmentally benign and 100% recyclable. They can also be recycled and reused if they are thoroughly cleaned. Stretch rolls totally wrap and unitize the loads. As a result, pilferage becomes more difficult because the load must first be unwrapped.
The best part is that transparent stretch wrap films can actually hide the product. If you're using a clear stretch wrap, the scanning machine will be able to read it without difficulty.
Inventory Management
When all similar products are packaged together, inventory management becomes much easier. Inventory counting becomes more cost-effective and time-saving as the risks of product separation are reduced.
How Stretch Film is Used?
Stretch wraps are commonly used for—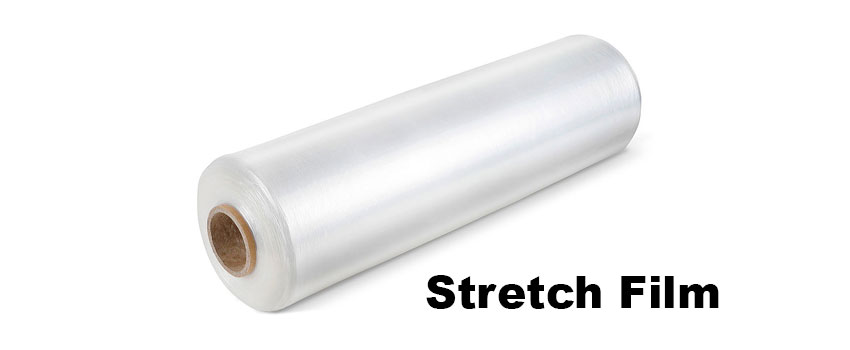 Palletizing
Stretch wrapping is one of the most straightforward and cost-effective methods of securing a load on a pallet for shipment. Basically, put the packages on the pallet in a cube and wrap the stretch film over them.
This can be done manually or with the help of a specialized machine to a wrap pallet quickly and securely. Pallets of heavy objects (think feed, fertilizer, mud, or compost), piles of beverage containers, or even hefty 55-gallon canisters or steel beams are all excellent fits for stretch wraps.
Securing Rolls and Rods
Stretch film can also be used to keep bundled goods like carpeting and wire spools secure. This is a simple and inexpensive method of preventing unrolling and unwinding during transportation and storage. Wrap the coiled or wrapped material in a fine layer of stretch film. The film adheres to itself without the use of ties or equipment!
Bundling
To bundle and stack loose goods all together into discrete pieces for stock management, selling, or shipment, employ smooth finish or arrange wraps. Stretch film is being used to bind together materials like tubes, rods, and dowels, or to aggregate small products into bigger units.
Bundling wrap or mini-wrap rolls come in three-to-five-inch sizes for easy and quick application by hand.
Transportation
Stretch wrapping is perfect for transporting large objects since it protects and secures them. Stretch film is commonly used by movers to prevent goods from scrapes and scratches during the moving process. It also keeps drawers closed, allowing you to move things like drawers and filing cabinets without having to remove contents from the drawers.
Stretch film can also be used to secure industrial machinery. Moving parts are protected by a tight wrap, which lowers the chance of costly equipment being damaged. It's an excellent choice for everything that doesn't fit in a box or pallet.
Product Protection
Stretch film is often used to safeguard goods on the shelves from light. Rather than just being packaged in a cardboard box for selling, photo frames and other consumer staples could be covered in a layer of stretch wrap.
Stretch film wrapping keeps products visible while protecting them from moisture, grime, and scratches. It's also useful for preventing the unintentional opening of containers of substances like paint or packages of dry products during transportation.
Final Words
Stretch wraps are often used to keep cargo on a pallet together during shipment. They come in a range of shapes and sizes, with each one serving a unique purpose. Now that you're aware of the various types and advantages of stretch film rolls, you can better decide and select the one that fits best your goods and organization.