Cardboard Roll – Are you looking for the best and the safest way to ship fragile items? Are you looking for the lightest yet robust shipping means to ship your important document?
Well, the answer is here. Cardboard rolls.
Using a cardboard roll is the easiest way to pack and protect lopsided items of different types and sizes. Having high shock-absorbing qualities, it can be manually cut to size and wrapped easily around a product. It is suitable for small batch sizes. It is available in many fluting paper types. 
Corrugated cardboard rolls are an economical and durable material used to wrap and protect products during storage and shipping. The rolls are available in any length and height option to cater to different requirements. 
Cardboard Roll
Whether you want to ship asymmetrically shaped items or want to ensure they are protected during shipping, a cardboard roll does its job in the most perfect way. At Safe Packaging, we are proud to offer corrugated cardboard rolls. They are made using top-quality cardboard sheets to provide the much-needed protection and the peace of mind that the item is safe and intact all through the way to its destination!
Whether you are looking for standard-sized rolls or custom-made cardboard rolls, we can offer corrugated cardboard rolls cut to dimension based on your specific requirements. Wrapping for big and long products, or a lightweight divider for bottles or a pad, whatever your need may be we do our best to provide you with an extremely versatile packaging solution. 
Corrugated paper rolls can be used in many ways. It can be used for different packaging applications. It can be also used to pack industrial parts as well. The best part about these rolls is they are eco-friendly and recyclable. Made using heavy-duty materials, a corrugate cardboard roll adds structure and extra strength to packaging. It ensures the items packed in the rolls are protected so that it reaches the destination intact. 
Whatever the size or industry of your business, the experts at Safe Packaging are here to assist. There are so many items that need extra care during shipping, and that's why we offer a wide range of high-quality cardboard rolls to customers in various industry sectors. Made to the highest standard, they are the perfect alternative to bubble wrap.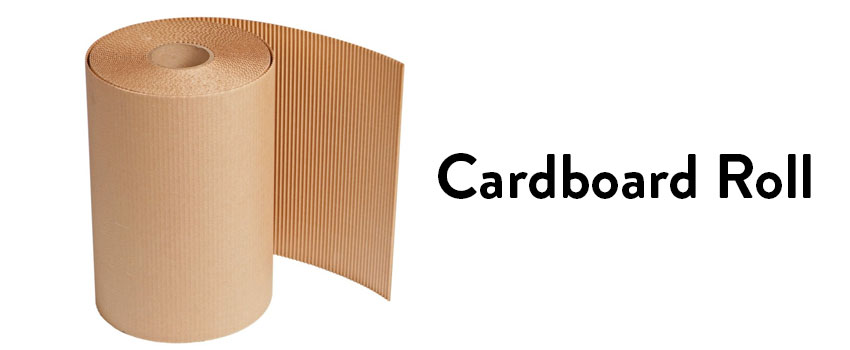 4 Things to Check Out When Buying a Cardboard Roll
Choosing a reliable, professional company to buy cardboard rolls is important. However, there are a few considerations that can help you make the right choice when buying corrugated cardboard rolls. 
A Reliable Seller
It is vital to buy cardboard rolls from a reliable and experienced seller. Before settling on a seller, make sure to check out the online reviews and ask for recommendations from your family or friends. Buying from a reliable seller makes sure you get the best quality cardboard rolls for packaging your items.
Type of Item for Packaging
Choose the appropriate type of cardboard rolls depending on the item to be packaged. When buying cardboard rolls for packing fragile and easily breakable items such as ceramic, glass, etc. make sure the rolls are made of the best quality material and are robust. Cardboard rolls are best for packaging fragile items to ship over a longer distance. They are durable and lightweight and protect items from any damage during transit. 
Minimum Order Restrictions
Some sellers may levy minimum quantity or order restrictions. Before placing the order, make sure to check with the seller if you have any such restrictions. Choose a seller that best meets your requirements, and is ready to scale up or down depending on your needs.
Price
Pricing matters for every business. Check out with different sellers and take price quotations to find out the best one for your business. However, price should not be the only criteria to choose a seller. Some may offer very low prices by compromising on the quality of the products. So, make sure to choose a seller and packaging company that offers the perfect combination of price and quality to cater to your packaging requirements. 

Cardboard Roll: Why Choose Safe Packaging?
With Safe Packaging, you can be assured that your requirements will be best handled by a team of professionals who know what works in your niche. 
If you run a packing and moving company or you are an e-commerce seller, frequent packing and shipping fragile items to and for your clients must be a part of your everyday operations. Fragile items such as documents, glassware, ceramics, etc. need added protection and care before shipping to their desired destinations. 
Before adding many fragile items in a single box, you can put each item in our corrugated cardboard rolls separately for added protection. At Safe Packaging, we offer an extensive range of corrugated paper rolls depending on the fluting paper. 
Flutes are basically used as fillers to add between fragile items. It is one of the thickest and strongest fillers than others. It is a great alternative to bubble wrap. 
Our cardboard rolls are used in many industries such as stationery, food processing, textiles, plastic, etc. We offer rolls that are appreciated by our clients for their amazing flexibility and smooth finishing. 
The corrugated rolls at Safe Packaging are available in many types such as single, double, triple-layered and many more. We have a team of highly skilled professionals, who make packaging products and solutions as per the specific industry needs and demands. We supply corrugated paper rolls that are designed to perfection. 
Whether you are looking for packaging solutions or cardboard rolls for your business needs, look no further. Safe Packaging manufactures, imports, and supplies the best quality packaging materials at a very competitive price. We make sure our clients get the optimum quality purchase experience with Safe Packaging services and solutions.
From packaging to packaging and logistics to shipping solutions, Safe Packaging is here to assist you and focus on your business success every step of the way!